Do you have an office or commercial building? Is keeping up with cleaning eating up your time that would be better focused elsewhere? What if you were able to have someone else come in and worry about keeping your office or building clean? That is where we, at All Source Building Services and Supply Co., can help! We offer day porters services to help you with your commercial cleaning in Twin Cities.
Maintaining the cleanliness of your office or building can easily become a hassle, especially with new cleaning regulations and procedures in place to help keep you, your staff and your customers safe during these unprecedented times with the COVID-19 pandemic. Now, more than ever, it is important to keep high traffic areas sanitized throughout the day – not just at night when evening janitorial staff comes through.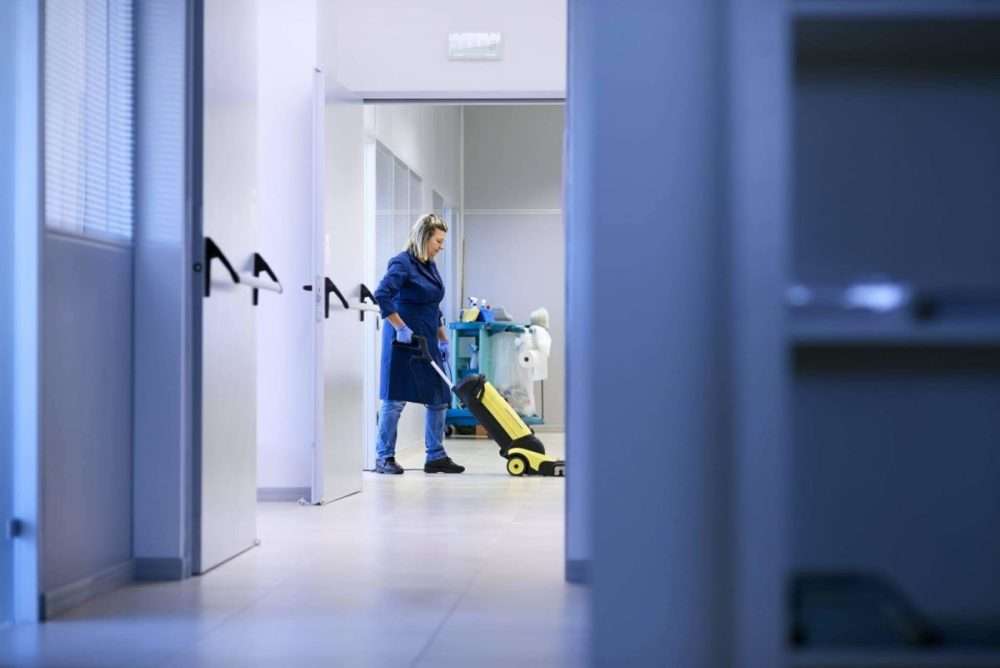 Our well-trained technicians can come to your business on a daily basis to keep your space clean and safe. While on site our technicians can perform the following services:
Sweeping and vacuuming hard surface floors or carpets
Restocking products in bathrooms/kitchens (such as paper towels, soap, etc.)
Dusting
Keeping bathrooms clean and smelling nice
Maintaining the exterior cleanliness of your building
Sanitizing and cleaning high traffic areas
And other services as needed by your business!
Is daily too frequently for your business? We can also have our technicians stop by on a weekly, monthly, or as-needed basis as determined by you and your needs!
With our technicians focused on cleanliness, you can focus on operating the many other aspects of your business rather than worrying about cleaning up little messes or regular sanitizing that should occur on a day-to-day basis.
Worried about having someone else in your office every day? Be assured that all of our technicians go through a background check and drug testing before we hire them. We want to be sure that we're hiring technicians who are reliable, trustworthy and honest – that way there's nothing to worry about! After being in this business for more than a decade, we're confident in who we hire, as our reputation of having excellent customer service and high quality work is very important to us.
Day porters are a great resource to help keep your facilities operating smoothly, as there are many advantages to having someone around during the day to assist with cleaning, among other small tasks. Contact us at (952) 473-3228 or request a free quote to see what we can do to meet your Twin Cities commercial cleaning needs.