Commercial Janitorial Services St Paul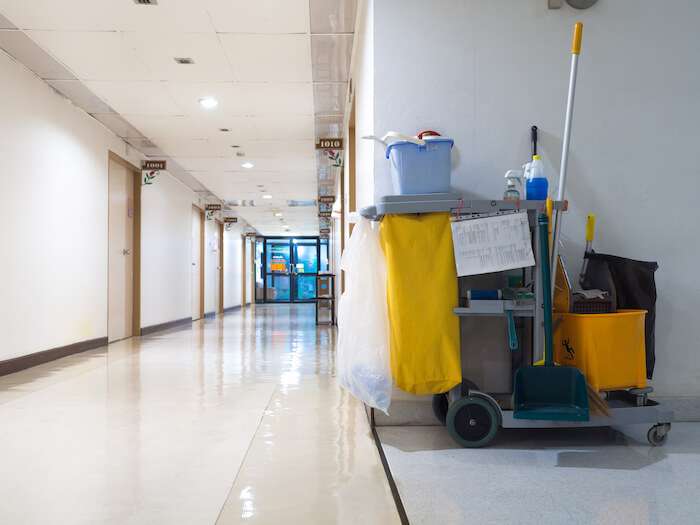 Now more than ever, it is important to keep businesses clean and looking their best. When a client or customer enters your facility, they expect to be greeted by a tidy, pristine and professional atmosphere. An unkempt office or showroom can lead to a loss of clients, bad reviews or poor office morale. But, you may not always have time to clean or ensure everything's clean. That's where we come in. Keep your commercial property looking its best with All Source Building Services and Supply Co. We offer commercial janitorial services for St Paul businesses and commercial properties. We can send someone to your business on a daily, weekly, monthly or as-needed basis to ensure your office or commercial property looks its best. Not only that, we can restock consumable supplies like paper towels, toilet paper and more.
Allow us to keep your business spotless. From providing day porter and commercial janitorial services to providing essential electrical and plumbing services, we can be your one-stop shop for all of your business cleaning needs.
Give us a call so we can meet you at your office to go over what you want and need out of our commercial janitorial services. We can also give you recommendations on the services we suggest for your specific needs, and we can fully customize those services too. You will find our prices to be fair and competitive, and we always do our best to keep those costs down for all of our clients.
Commercial Cleaning Services by All Source
A cleaner business is a more lucrative one. And, as business owners ourselves, we certainly understand this. A trusted name in the industry for well over a decade, you can trust All Source to provide great commercial cleaning services you can depend on at a great price. We train all of our team members on the proper skills essential to mastering the sciences of office and business cleaning. We are also locally owned and operated, so we are prepared to tailor our services to meet your needs.
Your commercial property is a high priority and cleanliness is one of the many key ways to keep your customers and employees pleased and coming back. We understand how important it is to put your best foot forward and present your company as clean and organized. From start to finish, the experts at All Source will ensure your office or commercial space is as clean as possible. We can even custom tailor a cleaning plan made specifically for your business' needs. We will gladly work with you to come up with the best plan of action to tackle everything your business requires, including:
Plumbing
Power washing
Construction projects
Hard surface cleaning
Floor cleaning
Window washing
Electrical repairs
Restocking of consumable supplies
And more
Whatever commercial janitorial services you decide that you want, we can tell you everything you need to know about our company, the services we provide and our pricing.
Contact Us Commercial Cleaning Services
For more information about our commercial cleaning services for your St Paul business, call All Source at 952-473-3228 or contact us for a Free Estimate.