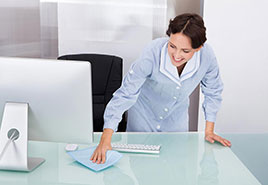 As an office cleaning company in St Louis Park, All Source has been helping countless business owners with all of their office cleaning and maintenance needs. For over a decade, our team has helped St Louis Park business and commercial properties by keeping their offices clean and their necessary cleaning, eating and hygiene supplies fully stocked.
We strive to be your one-stop-shop for all of your business cleaning needs. From making sure your business' bathrooms and kitchens are fully stocked with supplies like paper towels and toilet paper to cleaning services and painting projects; you can depend on us! We restock a variety of items including:
Lunchroom supplies
Lighting products
Roll towels
Napkins
Toilet paper
Dispensers
Air fresheners
Ice melts
Soaps
Safety supplies
And more!
Our office cleaning company also strives to keep its prices fair and reasonable. Give us a call today and we can talk more about what you need and give you a free estimate.
Professional Office Cleaning Company
At All Source, we are a locally owned and operated office cleaning company; meaning we can tailor our cleaning services to meet your business' specific needs. And, we are just a phone call away. If you have a question or concern, we are always here to assist you. No job is too big or too small! From retail stores, medical practices, car dealerships and government offices; we help businesses look their best.
Some of our comprehensive services include:
Window washing
Grounds-keeping
Construction projects
Carpet and hard surface floor care
Painting
Plumbing
Janitorial services
And more!
All of our services are fully customizable so we can come up with the best plan to fit your needs. Our office cleaning company will take the cleaning tasks off of your plate, freeing up time for you to take care of the more important aspects of your property or business. We can come as often as you need; during the day or in the evening, whatever you decide.
All of our employees undergo criminal background checks and drug screenings, so you can rest easy knowing our team members will clean your office right the first time.
Call today to learn more about our office cleaning company and all we can do for you.
More about Our Office Cleaning Company
For more information about our office cleaning company in St Louis Park, call All Source Building Services and Supply Co. at 952-473-3228 or contact us for a Free Estimate.